In the spirit of gratitude and kinsfolk and passing on our family history to future generations, my mom recounted our birth stories on Thanksgiving night in riveting detail.
Just to ensure that none of us forgot about it, the Circle of Life nudged its unwelcome ass back into the conversation by delivering me a whole goddamn can of tomato soup a day early. Which, when you only have three weeks out of every four free, is no insignificant chunk (forgive the pun) of time.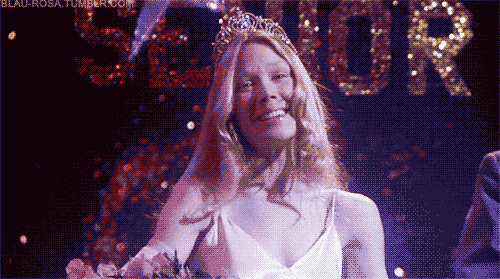 We went thrift store shopping on Black Friday because we're broke down as fuck, but everything I tried on made me look like overstuffed sausage casing because of my period. If you think you're bloated after Thanksgiving dinner, try having your period the day after Thanksgiving. It's like when you try to stuff a sleeping bag back into its original sack.
Ugh, can I not go back to New York though? My uncle, who's from there, says "Love it or leave it." If everyone followed that advice, New York would just be the population of Donald Trump's country club plus that one fruit seller on Wall Street that harasses women about grapes. Nobody who has to take the subway just unconditionally loves their life all the time. Especially that dude that had a seizure in front of me that one time.
Anyhow, feeling #blessed with the kickass family I have that all voted for Hillary, even my two grandparents from Texas who voted Republican their whole lives. I guess that's what happens when both of your kids are queer as fuck. Bye!